Allied Health at Waterbury Campus
Students can complete all Allied Health Sciences (AHS) major requirements and health care graduate program prerequisites on the UConn Waterbury campus. Three full-time AHS faculty members in Waterbury serve as academic advisors, teach AHS courses, conduct research in the community, and provide research mentoring for undergraduate students.
An undergraduate degree in Allied Health Sciences prepares you for immediate employment in a variety of health fields including case management/patient care coordination, health education, medical billing and account management, health marketing and sales, laboratory research, health insurance administration. Your degree will also prepare you for admission to graduate and/or professional schools and programs that require a bachelor's degree, such as medical school, dental school, physician assistant, physical therapy, public health, health promotion sciences, etc.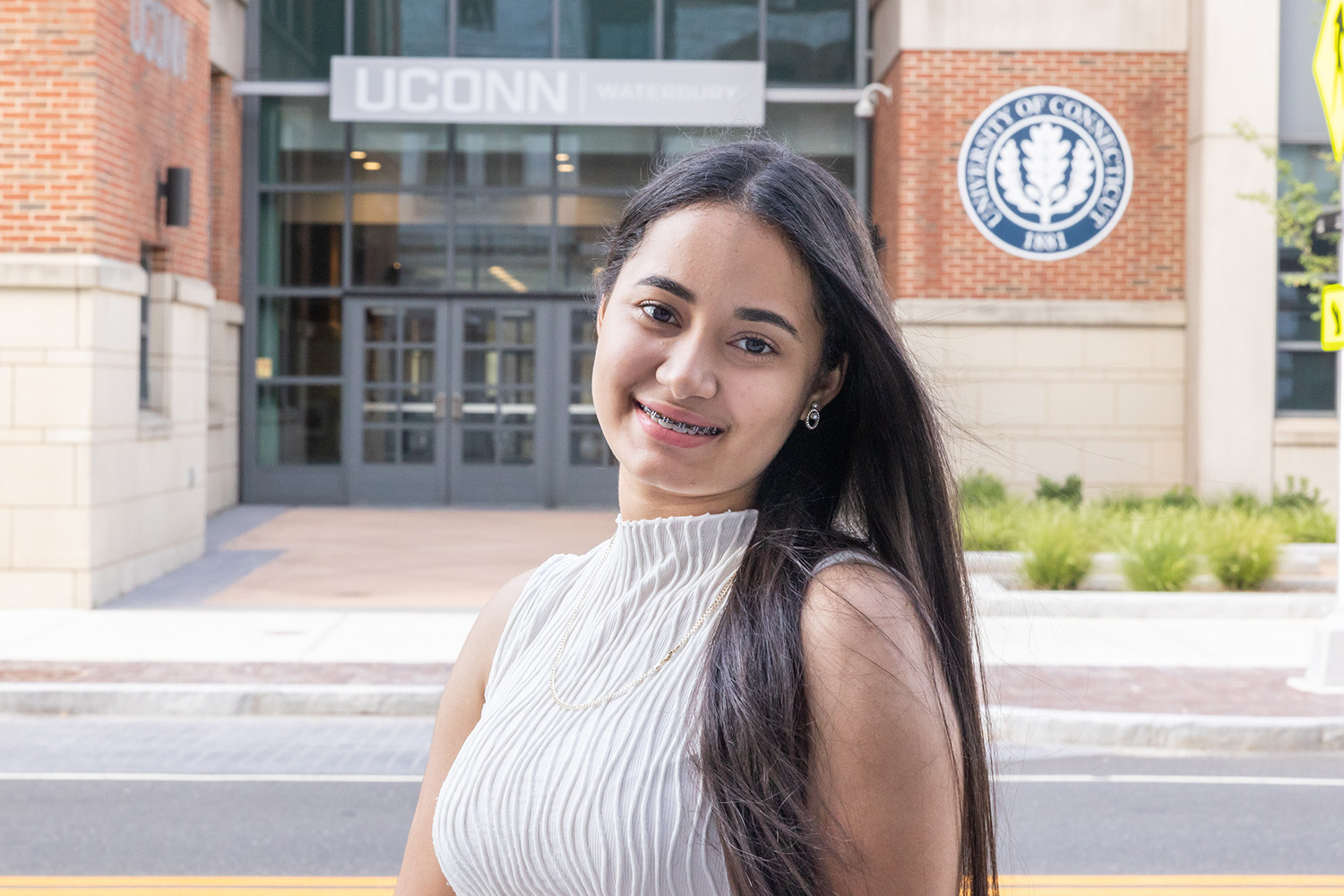 The allied health major is definitely preparing me to be successful in the future. I'm glad to be a part of this. — Emelis Santos '24
In addition to offering Allied Health courses, we partner with UConn alumni and the Waterbury health care community to provide experiential education and networking opportunities for students. Allied Health students work closely with a faculty advisor to tailor both the academic plan of study and community experiences that meet their career goals.
Majors & Concentrations
At UConn Waterbury, students choose from the Standard Plan or the Health Sciences Concentration. Both tracks allow students to tailor their plan of study to specific goals and professional interests.
AHS Standard Plan
This plan is designed for students who seek a broad training in Allied Health Sciences in preparation for general health careers or graduate and professional programs. The plan is flexible so that you can tailor your plan of study to meet your career goals. Many students in this plan are pursuing the following graduate programs: physician assistant, physical therapy, occupational therapy, accelerated bachelors of nursing
Concentration in Health Sciences (HESCI)
Students with an interest in health specialties that involve laboratory or diagnostic procedures or who are looking to pursue health fields that require a strong health science and pathology background should consider this concentration. Many students in this plan are pursuing the following: medical school, dental school, optometry; pathology assistant; or pharmacy
For more information
about the AHS major at UConn's Waterbury campus, contact Tamara Kaliszewski, Assistant Professor-in-Residence in Allied Health Sciences, Waterbury campus: tamara.kaliszewski@uconn.edu.
Learn More about AHS
Learn more about education, research, or community engagement in the Department of Allied Health Sciences.
Apply to AHS
Join our vibrant community of students working to make the world healthier. Apply to Allied Health Sciences today.